The real issues are:
LOW ECONOMIC COMPLEXITY
Yes indeed, we are not productive and occupy the 4th lowest position on the Economic Complexity Index – meaning that as sophisticated as our tastes are, we also are one of the countries that adds the least value to anything we produce. This means that we are both physically and mentally lazy and only export crops while seeking the best standards of products – like cars, phones, laptops, building materials, private jets, from abroad. We are all culpable. We have students who use phones of N2 million and millionaires who buy these things for their spoilt children. This country must halt this nonsense and take a pause to consider her destiny. We are the 4th least innovative country in the world with such a penchant for foolish pride and shameless gratification. We are digging a hole for ourselves and our children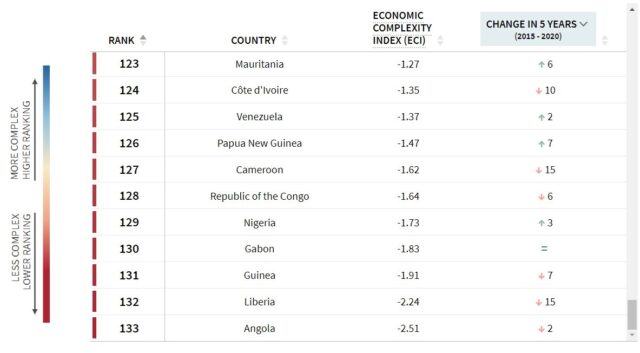 Figure 1 – Worst countries in the world for Economic Complexity/Innovation (Source Harvard CID)
Figure 2 – Best countries in the world for Economic Complexity/Innovation (Source Harvard CID)
PERENIAL BALANCE OF PAYMENT CRISIS
Apart from the problem of economic complexity, the reality of our international trade right now is that we are earning too little from the international community compared with what we are getting. An analysis of our exports for 2021 from Trading Economics statistics show that our only billion dollar export is Crude Oil and Gas (asides from the occasional money we get from exporting scrap ships and aircrafts – which we do not produce). Asides from crude oil and gas, our other exports are crops – cocoa, sesame, sorghum, soya beans, yam, cassava, cashew and such like. Therefore, asides from crude oil and gas which are in the billions of dollars (and of which we only get about 30% after International Oil Companies take their lion share), our next exports fall in the middle to low hundreds of millions of US Dollars. But when we look at the Import side of the balance sheet, we find that our first 12 imports are in the billion-dollar range, and our export of crude oil and gas is canceled out by our import of refined petrol, diesel, JET A1 and other fuels. See figure 3. Figure 4 shows a comparison of our first 10 imports and exports in a chart. Our tenth export is almost insignificant compared to our tenth import. With this reality, we do not have a dollar scarcity but a productivity, innovation and commonsense scarcity which must be urgently reversed.
Figure 3: Chart showing Nigeria's first 22 exports and imports side-by-side (Courtesy Trading Economics)
Figure 4 – Chart showing comparison of Nigeria's first 10 imports and exports by product and $ value
EVERYBODY IS SPECULATING ON THE NAIRA.
For now, I believe this is the more serious of the many issues we now have. Everybody is speculating. Everybody now owns a domiciliary account. The argument is that people have a right to hedge against the fall in the value of their currency. But there is the need to draw a line somewhere. From my research, there is probably no other country in the world with the kind of culture around its currency like Nigeria. Ghana close by is having it rough with her currency – much worse than the Naira – but their people prefer their own currency and indeed a law was passed recently mandating the disuse of the dollar in normal transactions. They tried to be liberal for a while but are now seeing the Gh Ceddi disappearing altogether. A senior friend just told me about how once in Kenya, he was deceived to try the black market to change $20 and immediately he tried, they ganged up and started shouting such that he left the money and ran. Kenya could be like that. My friend also told me that just last year, he was in Finland and could not find anywhere to change money in a university town outside Oslo. His group had to give their dollars to university officials who had to obtain the Vice Chancellor's approval to go change to the local currency in a bank.
Nigeria has overdone this financial liberalization. When the citizens of a country express their lack of confidence in their own currency, all is lost. And like I have said severally elsewhere, this feeds into the second generation of currency crisis theory – when a people believe their country's currency will devalue, it will. Why? Because someone will make the first move and then everyone starts to convert into another currency (this time the dollar). As I type, anyone with a savings of N100,000 has the money converted into dollar already. Nigerians who have jobs save in dollars on a monthly basis – including those who work with the regulating bodies. Of a fact, the president, his vice, all ministers, all members of National Assembly, judges, top policemen, members of the armed forces, bankers, oil workers, and everyone in between save in dollars, and also spend dollars, they, their children, and grandmothers. And in doing this, we are killing our country. Will anyone have the courage to reverse this trend? Because this trend has no end but grief for all. It is a game with no winners.
The person saving $100 per month is actually playing the same crap game with the corrupt civil servant or politician who already has $100 million stashed in different places. Where the poor man gains value when Naira loses 50%, the man with the $100 million has gained 50% too. And the man with no money to convert to dollar is much worse-off because with his Naira he can hardly feed as inflation and devaluation has conspired to snuff life out of him.  In time, the man with the $100 million cannot step out of the house because there are zombies waiting to eat him raw.  This is what we are doing to our country, most stupidly. We are not acting like people in their right minds. For beyond being smart with finance, we need to build our society first. We cannot continue this game.
COMPROMISES, COMPLICATIONS AND CORRUPTION
Can the Central Bank meet the demands of legitimate users of foreign currencies?  Already, there is a long delay to satisfy the demands of importers – sometimes running into months. Even obtaining travel allowance is an arduous task needing 14 clear days with little assurances. I have had to call senior staff of Central Bank to get banks to avail these travel allowances. The option is to head to the same 'black market', which the Central Bank has marked as illegal. And indeed, it is. But the more we create business for this illegal market, the worse for all of us. The only way citizens will take their minds off the illegal market is when legit users can obtain foreign currency through official sources – for tangible and intangible trade. The truth is that the volumes driven through the black market is not as large as that done through official sources. How? When you see the kind of huge demands made by industries on the Central Bank you will understand that nobody can source hundreds of millions of dollars weekly from some black market.
The Central Bank should also note that even the travel allowances approved may be too meagre. If the bank wants to wrestle down this problem, there is a need for policy dynamism and realism. Whereas some people do not need up to $4,000 for a short trip, others may need as much as $20,000 for a longer, or luxury trip. Maybe the Central Bank can cap at $10,000 and request for justification for the upper limit. If indeed, people see that the Central Bank is likely to strengthen the Naira through a raft of policies, it will not be in their interest to hoard dollars. However, the Central Bank should meet with stakeholders and remove some of the complications on the road to obtaining foreign currencies. The Federal Government should also bring out policies that will help reduce other pressures like foreign health and education tourism. As things stand with the ASUU strike, that seems a long shot, but this can be done. The key impediment here is internal compromise, lack of integrity and selfishness/myopia. All those in our helms of affairs have their children overseas. We see them graduating every day. Everyone who has made some good money wants to send their children abroad too.  Nigerians are unlikely to change until the oncoming train tramples all of us but let one state this suggestion all the same.
Then there is the corruption problem. One of the biggest sources of business for the foreign exchange black market is corruption. Nobody collects a kickback in Naira, especially when it is a substantial amount. Those doing little speculations on the value of the Naira should therefore understand that they are aiding politicians, corporate titans and others who are in the corruption business. Those ones already have huge amounts stashed in the US Dollars and other currencies. But I will make another suggestion below which could show that we can move against corruption and make it obsolete, or at least try. We just have to cool out the economy no matter what. For as long as Nigerians are still taking advantage of the system for illegal gains whether in the private or public sector, our currency will never be stable.